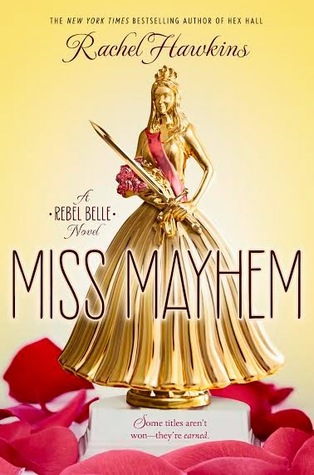 Miss Mayhem - Rachel Hawkins
* I won't add a synopsis for those of you who haven't read Rebel Belle *
I also, won't go into detail of the plot and there won't be any spoilers so don't you worry! If you want to read my review of Rebel Belle then just click...
HERE
.
1. I really enjoyed this book, and read it in pretty much one sitting! I preferred it to Rebel Belle, but I think that's because I understood the characters a little more.
2. There wasn't really that much going on in this book, I mean... there was, but not as much as in Rebel Belle.. although that's a bit of a bummer, I kind of liked that because we got to see a little more about the relationships that the characters have with each other.
3. One thing I
loved
about this book was the description of Harper's feelings for David. I could completely and utterly relate to those feelings of love and hurt and pain etc and every metaphor used to describe how she was feeling was perfect. That is something I usually don't pick up on, but it was strong in this book.
4. One thing I didn't like was all the breaking up and getting back together and switching boyfriends and girlfriends and blegh. It was like one big giant incestuous family.
5. I feel like the plot and the development could have been a little better, it just seemed a bit childish and rushed. I can't find the word I'm looking for, but it just wasn't as action packed and tense as other books have been. Maybe it's a bit too
YA
for me, but like for a younger audience? I needed more violence, I needed more tension and fear and drama.
6. Some of the plot was just a little confusing. Like really confusing. Like things happened for no reason, just to add a bit of drama to the plot but it turned out to be completely pointless? Yeah this is a confusing point, but if you've read the book you'll understand where I'm coming from.
Overall, I liked this book a lot more than Rebel Belle, it made me laugh, it made me cry and I loved how much of an easy read this is. I flew through this book and I can't wait for the next one!
I rated it 4* on goodreads.
Let me know your thoughts!