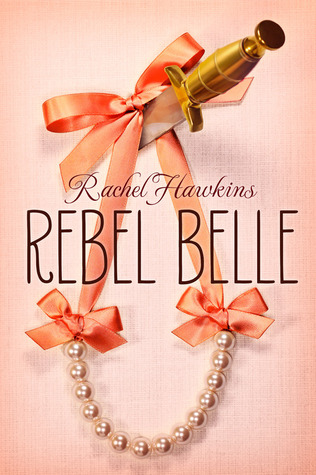 Synopsis:
"
Harper Price, peerless Southern belle, was born ready for a Homecoming tiara. But after a strange run-in at the dance imbues her with incredible abilities, Harper's destiny takes a turn for the seriously weird. She becomes a Paladin, one of an ancient line of guardians with agility, super strength and lethal fighting instincts.
Just when life can't get any more disastrously crazy, Harper finds out who she's charged to protect: David Stark, school reporter, subject of a mysterious prophecy and possibly Harper's least favorite person. But things get complicated when Harper starts falling for him—and discovers that David's own fate could very well be to destroy Earth.
With snappy banter, cotillion dresses, non-stop action and a touch of magic, this new young adult series from bestseller Rachel Hawkins is going to make y'all beg for more." - Goodreads
---
I tried to read this book a few times, I started... and then I stopped. I started.. and again, I stopped. I think the reason for this was the whiny, girly main character- Harper. The opening scene begins with Harper at Homecoming with her friends and realising she didn't put any lipgloss on, and I shit you not, like 2/3 pages of her complaining / stressing over the fact that her 'lips are naked'. Really girl? It's just lipgloss, big deal.
So I won't lie, I heard the hype about this book last year, had no idea what it was about, but I judged the cover and assumed it was a fairy/princessy/girly type of contemporary. My oh my was I wrong.
I had a lot of issues with this book, I'm not gonna lie to you, but on the whole, it started to grow on me. Here are some of my pros & cons:
Pros:
David Stark is a great GREAT character.
Harper turned out to be a super amazing, no-frills type of hero.
The mythology and fantastical element to this story is so interesting to learn and read about.
It's literally action-packed from the get-go (minus the millions of pages about lipgloss, get through that and you'll be fine!)
Some parts were like literally the best 'LOL' moments. Lots of humour! It was funny :')
Cons:
Harper doesn't like to swear, which I found to be a bit childish/pre-teen. I'm 20 years old, saying the word 'fuck' isn't a big deal, even as a 16/17 year old. Just seemed a bit ridiculous to me.
Again, she did the same thing with the word 'stress', referring to it as the 's-word'. REALLY?
Sometimes words like depression were just thrown around, which always irritates me but that's just a small point. She said she was depressed, she really wasn't. It's annoying.
There's a little backstory about Harpers family, which wasn't really ever developed at all and just came across as really bland and one-dimensional, as if Harper needed something wrong with her perfect life. Which I get it, people who come across as perfect do have their own issues, I'm not denying that, but at least make it a little more believable/realistic.
I complained a lot whilst reading this book, I had so many issues with it, which for me is quite odd as I never really pick up on mistakes/contradictions etc, I'm just a passionate reader, I give the author some lee-way. But nevertheless, I really enjoyed it and read it in quite a short amount of time (by my standards anyway). I rated it on goodreads a 3*, which is more of a 3.5* and I've already started the second book in the series, which I'm loving.
I really would recommend this book, even with all my complaints! It's kind of like a weird guilty pleasure type of book for me.
Anyway, this review is pretty messed-up, I've been out of the business for a while, so just need a little time to get my shit together!
Let me know what you thought about the book in the comments! :')