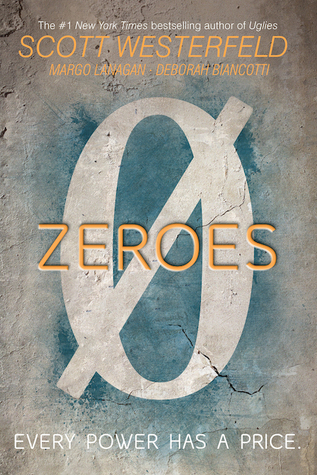 Zeroes - Scott Westerfeld, Margo Lanagan, Deborah Biancotti
"
Ethan, aka "Scam," has a way with words. When he opens his mouth, whatever he wants you to hear comes out. But Ethan isn't just a smooth talker. He has a unique ability to say things he doesn't consciously even know. Sometimes the voice helps, but sometimes it hurts - like now, when the voice has lied and has landed Ethan in a massive mess. So now Ethan needs help. And he needs to go to the last people who would ever want to help him - his former group of friends, the self-named "zeros" who also all possess similarly double-edged abilities, and who are all angry at Ethan for their own respective reasons. Brought back together by Scam's latest mischief, they find themselves entangled in an epic, whirlwind adventure packed with as much interpersonal drama as mind-bending action." - Goodreads
I received an ARC from the publisher for an honest review.
This book is due to be published on 23rd September 2015!
I absolutely loved this book, I loved all the different powers the group had, I loved the problems they got themselves into and I loved the fact that they were just kids who had no idea how to be heroes or how to control their powers.
This was such a brilliantly written novel, fast-paced and action packed. Of course, superhero stories have been done, kids with superpowers have been done but just not in this same way, these authors completely twisted the whole 'superpower/superhero' thing!
The fact that it wasn't all "okay this person needs help, lets go save them" just made this book 100x better. It focused on the problems with these powers, which was completely unique and like nothing I've read before.
I connected with all the characters, I loved them all (minus Nate, really didn't like him, seemed a bit sketchy to me) and I found myself wanting them to succeed and make it and be okay. I love when books give you that feeling, when they make you care for these fictional characters and feel for them.
Not only was it dramatic and action packed, but it was funny as well. I can't remember how many times I literally laughed out loud, but it was a lot, this book just had a bit of everything. A rollercoaster of emotions.
I despised the insta-love between two certain characters, I just didn't buy it. I didn't think they were actually into eachother, I had no idea where the infatuation came from, I just didn't really get it.
Overall, I adored this book and rated it a 4* on Goodreads! I would completely recommend it, it's an incredible book and cannot wait for a sequel!