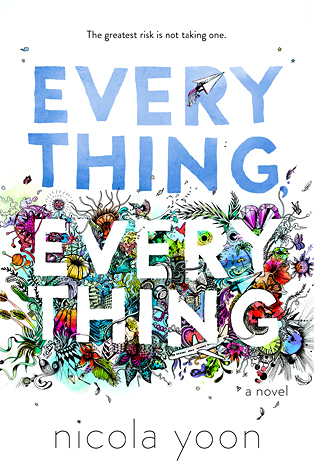 Everything, Everything - Nicola Yoon
"
My disease is as rare as it is famous. Basically, I'm allergic to the world. I don't leave my house, have not left my house in seventeen years. The only people I ever see are my mom and my nurse, Carla.

But then one day, a moving truck arrives next door. I look out my window, and I see him. He's tall, lean and wearing all black—black T-shirt, black jeans, black sneakers, and a black knit cap that covers his hair completely. He catches me looking and stares at me. I stare right back. His name is Olly.

Maybe we can't predict the future, but we can predict some things. For example, I am certainly going to fall in love with Olly. It's almost certainly going to be a disaster." - Goodreads
I received this from NetGalley in exchange for an honest review.
This book will be published on 1st September 2015.
Holy moly, this is one hell of a book. From the very get-go I was drawn into the story. It was funny, it was quirky, it was cute, it was sad, it was interesting. I loved every moment of this book and read it in pretty much one sitting (okay, well one day!). Not only is the main character not white (hooray for diversity) but she is so loveable, and realistic. Or as realistic as you can get. I honestly can't stop gushing about this book to everyone. Really, I can't.
Madeline is an amazing main character- she's funny, witty, intelligent, interesting and brave. She takes everything as it comes, she doesn't mope around, she's not constantly miserable about her life. She makes the best of what she's got and that's something I love about her. She's such an inspiration and she made me think a lot about my life and the things I take for granted.
Olly is just as fabulous. He's caring and kind, he's so loveable and he's cute. The chemistry he has with Maddy is just insane, it's something that I've never really experienced whilst reading a book - I've never felt two characters have such an intense connection as these two. I loved it. I loved it a lot.
The story revolves around Maddy's illness, which is fitting, seeing as she can't exactly escape it. But she doesn't become her illness and that's something that a lot of authors miss quite often. Of course, a character can have a disease or illness, but there's more to them than that and Yoon captured that perfectly with Maddy.
All of our characters had somewhat distressing stories, and it was added in the most elegant(?) way. It was there, and it was happening to them - but it didn't overtake them - it didn't ruin who they were, and that's something so beautiful.
A lot was unexpected in this book and it made me cry my eyes out, even now writing this I'm still recovering. It was heartbreaking, it was intense. God it was shocking. I can't get over it and I won't for a long time.
It was one of the best books I've read all year and I cannot wait for it to be released so everyone else can experience what I just have. I rated this 5* on Goodreads and I HIGHLY HIGHLY recommend you pick this up as soon as you can.