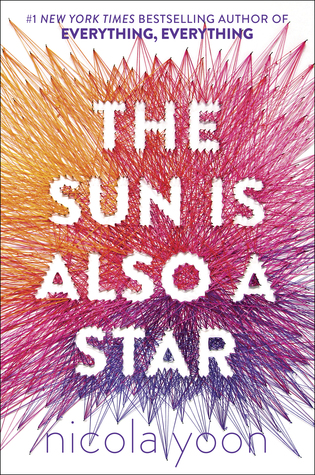 Title:
The Sun is Also a Star
Author:
Nicola Yoon
Publisher:
Delacorte Press
Date Published:
November 1st 2016
Pages:
384
Source:
NetGalley
Buy It Here: The Sun is Also a Star
*
Natasha: I'm a girl who believes in science and facts. Not fate. Not destiny. Or dreams that will never come true. I'm definitely not the kind of girl who meets a cute boy on a crowded New York City street and falls in love with him. Not when my family is twelve hours away from being deported to Jamaica. Falling in love with him won't be my story.
Daniel: I've always been the good son, the good student, living up to my parents' high expectations. Never the poet. Or the dreamer. But when I see her, I forget about all that. Something about Natasha makes me think that fate has something much more extraordinary in store—for both of us.
The Universe: Every moment in our lives has brought us to this single moment. A million futures lie before us. Which one will come true? - Goodreads
Where do I start... I was really looking forward to this book. I read Everything Everything by Nicola and absolutely loved it, I thought it was great. I had such high expectations for this book, but unfortunately it all just completely fell apart. I thought the writing was great, I loved the diversity in this book and the incredibly difficult themes that it tried to cover but I wish it focused more on those things and less on the romance. It was literally insta-love x100000. It was the most cringeworthy and unrealistic book that I've probably ever read. I really wish that I loved it, I really wish that I felt what everyone else feels about this book but I honestly cannot. I have so many issues with it. I'm so sorry if I offend anyone with what I'm about to say, I'm sorry if this was your favourite book of all time and I'm about to criticise it to no end, but it has to be done! Ready?...
Right. I have a massive issue with insta-love. I cannot stand it, and I can't even begin to tell you how ridiculous the romance in this book was. Like they had literally known each other for about 4 hours and they were talking about a life together and how they could fall in love and if he/she was 'the one'. For real?! Like no, there is so much more in life, you can't give everything up to be with a girl you met an hour ago. Who on earth brought you up?!?! So yeah that was a massive no from me. Some of the biggest eye-rolls I've ever given were to this book. Ugh. Anyway. Moving on.
So something else that really really bothered me about this book was kind of a spoiler so ...
The final point that I want to make, and honestly I'm trying not to be completely negative with this review, but I was so disappointed that this book didn't take the 'illegal immigrants/what's it like growing up with immigrant parents in the US' theme and run off with it. The book would have been so much stronger if that was the main focus, I can assure you I would have loved it.
I just hated that everything was centered around this romance, and I understand that it was supposed to be spontaneous and romantic, like a lovely perfect fairytale but it was a little bit too much... It was so unrealistic and incredibly cringeworthy. I love Nicola Yoon's writing style, I love the ideas she has in her head, I love her other book and I feel like this book had so much potential had it taken a different direction, but this is just not the one for me!