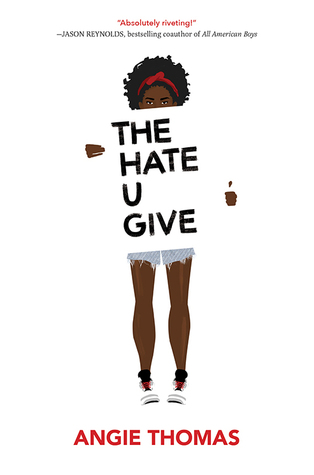 Title:
The Hate U Give
Author:
Angie Thomas
Publisher:
Walker Books
Date Published:
February 28th 2017
Pages:
464
Source:
Publisher ARC
Buy It Here: The Hate U Give *
Sixteen-year-old Starr Carter moves between two worlds: the poor neighborhood where she lives and the fancy suburban prep school she attends. The uneasy balance between these worlds is shattered when Starr witnesses the fatal shooting of her childhood best friend, Khalil, at the hands of a police officer. Khalil was unarmed.

Soon afterward, Khalil's death is a national headline. Some are calling him a thug, maybe even a drug dealer and a gangbanger. Starr's best friend at school suggests he may have had it coming. When it becomes clear the police have little interest in investigating the incident, protesters take to the streets and Starr's neighborhood becomes a war zone. What everyone wants to know is: What really went down that night? And the only person alive who can answer that is Starr.

But what Starr does—or does not—say could destroy her community. It could also endanger her life.
This book has been one of the most anticipated books of the year by pretty much everyone in the book community, and for a very very good reason. I've only just finished this book earlier today so my thoughts are fresh in my mind, I just hope I can articulate them well. I want to start off by saying I loved this book and could only find small faults with it. I thought it was written beautifully, I thought it was heartbreaking at times, and I thought it was incredibly eye opening to the current situation in the US.
Firstly, I loved our MC - Starr Carter. I thought she was such a strong character, she had a lot to deal with and honestly handled it much better than I ever could have. I loved the relationships she had with her family and it's honestly so refreshing to see family being one of the main focuses in a book rather than a weak insta-love storyline taking over.
I want to give my negative thoughts early on in this review so I can get them out of the way and focus on what I loved - I'd hate to end a review on a negative!
The main negative that I noticed throughout this book, and honestly it's not really a negative of the storyline - but I was hoping to read about the more common people in society, rather than two very extreme viewpoints, i.e. the poor town ruled by gangs and the super rich stuck up. They were two extremes which I know of course, do exist - but they're the extremes. I don't know where I'm going with this, it's just something I noticed and found it harder to identify with.
Secondly, I wish we could have seen a lot more from Khalil himself. I think the story could have been so much more heart-wrenching and powerful if we had a few chapters (at the very least) from his perspective. It would have allowed us to connect with him on a more personal and emotional level that could have potentially made this book a lot stronger.
The Hate U Give is an incredibly powerful book, and rightly so raises some much needed awareness about the current issues in the US regarding police brutality and the unlawful killing of POC's in the country. I am so so happy that this book has gained so much attention, before - during and after its release. I would love to read more books that highlight these issues and can help educate people (like me - who wouldn't ever experience anything like it) to understand the struggle that is dealt with on a daily basis that white people take for granted. It was such an eye-opening book and I hope there are many more like it; I'm a strong believer that books can create change and I hope this is one of the times where it does.
Overall, I loved this book. I rated it 4* on Goodreads!