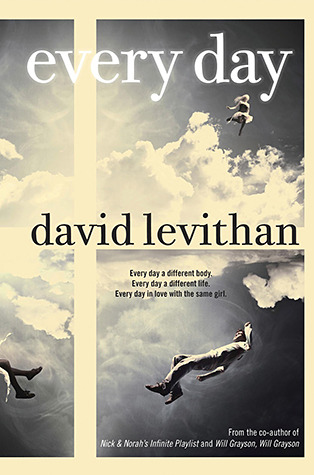 Holy smokes, this book blew me away.
The whole concept is that there's this person who wakes up in a different body EVERY DAY. So he ends up falling for a girl while he's in someone's body, and ends up thinking about her everyday and trying to just get a glimpse of her whenever he can etc.
This book just made me think so deeply about life and literally nearly gave me an identity crisis.
Who am I?
Is this my body?
Has someone taken over my body for a day?
How will I know?
OH GOD THEY SAW ME NAKED.
I really loved this book, it's a quick read, it's written
PERFECTLY.
I love David Levithan's work and I plan to read every book he's ever published (including collabs) so I might be a bit biased, but honestly his writing is flawless.
This story is just so beautiful.
My heart literally broke for this person. Like imagine living life without your own body? You don't really have an identity, you just have a mind.
I loved hearing about the different bodies they've taken over. The different lives they get thrown into and the things they have to deal with.
Like just imagine.
You could wake up and eat doughnuts and chocolate and kfc and burgers and whatnot all day and then when you wake up the next day, you could do it all again cos you're in a different body. What a perfect life. Or so you'd think.
I love the different characters we get to see.
I'm just so happy with this book, I want to read it again.
Loved it and definitely recommend this book to anyone and everyone.
5/5stars.