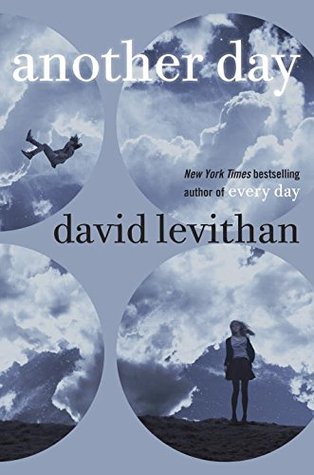 Another Day - David Levithan
"
Every day is the same for Rhiannon. She has accepted her life, convinced herself that she deserves her distant, temperamental boyfriend, Justin, even established guidelines by which to live: Don't be too needy. Avoid upsetting him. Never get your hopes up.
Until the morning everything changes. Justin seems to see her, to want to be with her for the first time, and they share a perfect day—a perfect day Justin doesn't remember the next morning. Confused, depressed, and desperate for another day as great as that one, Rhiannon starts questioning everything. Then, one day, a stranger tells her that the Justin she spent that day with, the one who made her feel like a real person . . . wasn't Justin at all.
" - Goodreads
When I found out there was going to be a sequel to Every Day, I was ecstatic. Then, when I realised that it was a companion novel told from Rhiannon's perspective, my enthusiasm for reading this book deflated. Nevertheless, I was sent this book from NetGalley and decided I have to read it. I love David Levithan's work and knew for a fact that his writing wasn't going to be the thing that let me down. And it wasn't.
I like that this is a companion novel, I like that you could read this without having read Every Day, I like seeing the other perspective, I was confused at first, I had no idea what was going on or who's talking, but it all fell into place pretty quickly. I like reading about Rhiannon's life and her point of view. I've found myself wishing countless amounts of times for the same book in other perspectives, I do it a lot and I'm glad for once, I got just what I wished for.
It was a good companion novel, the writing was flawless, as per usual and the events that took place were both interesting and cute.
But I still found myself wishing for that sequel. I wanted to know more about A, and if there were others like him and where that would take us. I wanted some action, some drama and I'm still hoping for a sequel in the future. I hope we get that. That was where I was disappointed.
Rhiannon is both annoying and likeable at the same time. I can't even begin to explain how I feel about her, she's so relatable in a really weird way, but some of the things she did just annoyed me for some reason.
I enjoyed this book and if I could go back in time to read it again, I would. It was a good book, a really good book and it's nice for once to see both sides to the same story.
BUT CAN WE HAVE A SEQUEL PLEASE.
I rated this book 3* (more like 3.5*) on Goodreads! I definitely recommend reading this one, both to those who loved Every Day and to those who haven't read it.