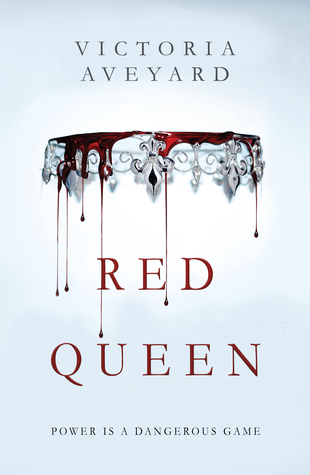 Red Queen - Victoria Aveyard
"
The poverty stricken Reds are commoners, living under the rule of the Silvers, elite warriors with god-like powers.

To Mare Barrow, a 17-year-old Red girl from The Stilts, it looks like nothing will ever change.

Mare finds herself working in the Silver Palace, at the centre of
those she hates the most. She quickly discovers that, despite her red blood, she possesses a deadly power of her own. One that threatens to destroy Silver control.

But power is a dangerous game. And in this world divided by blood, who will win?
" - Goodreads
I literally just finished this book and I really enjoyed it. The world was interesting, the characters were likeable, everything was how it should be (in my eyes). It took me a little while to get into at first and I had countless thoughts of putting it down, because I felt like I was getting nowhere with it, but I pushed through and I'm so thankful I did.
I loved the writing style, and as Aveyard's debut novel, it was really good. Mare was an amazing character, she reminded me a lot of Katniss from The Hunger Games, she was so feisty and tough and cared about others a lot and that's a great mix of characteristics for someone to have.
I found myself really routing for these characters and I loved every plot twist and every shocking moment. Although for me the book was slightly predictable, and I did find myself rightly guessing what would happen next the majority of the time, it still came as a shock to me when I finally read
about it.
There was a slight love triangle, and I did enjoy that (shock!) because it was in the background and wasn't the main focus of every action that Mare took. She did what she wanted and the romance and love fell into place as and when it was needed but not overpowering and Twilight-like.
I did see a lot of similarities to other book series that I've previously read, a mix of The Hunger Games, The Selection and Game of Thrones to say the least but I think that's what makes this book great. It took all the great things about those series and created something amazing and new.
I'm excited for the sequel to this which should be out at the end of next year at some point, and hope we get to see more rebellions, more love, and more world building.
I rated this book 4* on Goodreads and would definitely recommend it!