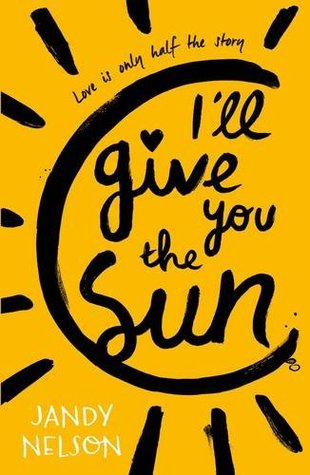 I'll Give You The Sun - Jandy Nelson
"
From the author of The Sky Is Every­where, a radiant novel that will leave you laughing and crying - all at once. For fans of John Green, Gayle Forman and Lauren Oliver. Jude and her twin Noah were incredibly close - until a tragedy drove them apart, and now they are barely speaking. Then Jude meets a cocky, broken, beautiful boy as well as a captivating new mentor, both of whom may just need her as much as she needs them. What the twins don't realize is that each of them has only half the story and if they can just find their way back to one another, they have a chance to remake their world.
" -
Goodreads
It was all kinds of fabulous, it's deceit and lies, secrets and friendship, love and loss, pain, passion and heartbreak.
I should have read this the minute it arrived. I don't know why I didn't. I kept putting this off for a while, and I'm telling you now, if you keep putting it off, if you keep pushing it back,
stop
and read it. Just do it. Thank me later.
I did have a few issues with this book, so I'll start off with them so we can get onto the more positive aspects of the review! I found it a little boring at parts, I think that's just due to my interest in art... which is lacking, obviously. I've never been a creative person, I've never been a fan of art - so all the paragraphs of the art descriptions and the countless 'hours' Jude and Noah spent working on their art, it bored me. I skipped through it a lot. But something interesting happened, and I found myself identifying with their interpretations of the art they create. I found myself understanding it, and that in itself is a miracle.
I also found myself disliking Jude from the very beginning. I don't know why, I just didn't connect with her. I didn't like her, I thought she was rude and selfish and just a mean person. But again, here's the beauty of this book- her character development was incredible. By the end of it, I liked her and what's more important, I understood her. But I still found myself shouting *in my head* at the book, wondering why she was doing what she was doing, because I didn't understand all of it.
God, I have so many thoughts about this book, I'm finding it hard to put it into words. I loved everything that happened, I loved the drama and the pain. I loved the romance and the happiness. I'm baffled that all of that could be so prominent in one book, but every emotion that was supposed to be felt by the reader, I felt it. I felt it all and I felt it strong. There were so many times whilst I was reading this book that I wanted to cry, it hit me hard.
I originally thought this was just a love story, but really.. love is only the half of it. I loved all of the characters, I only wish we had more of a certain love interest. I wanted so much more, there was no closure, but that's okay. I'll just make it up in my head. Overall though, I really enjoyed every single complex aspect of this story, I just wish there was more! I highly highly recommend this. So go, pick it up and start reading. Come back and we can talk about it! I rated this 4.5* on Goodreads!