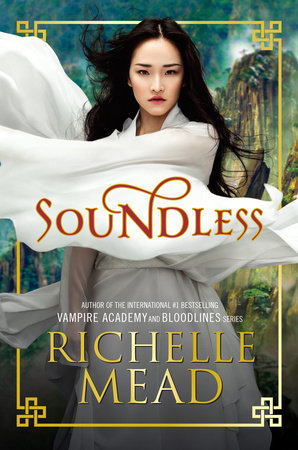 Soundless - Richelle Mead
"
In a village without sound…

For as long as Fei can remember, no one in her village has been able to hear. Rocky terrain and frequent avalanches make it impossible to leave the village, so Fei and her people are at the mercy of a zipline that carries food up the treacherous cliffs from Beiguo, a mysterious faraway kingdom.

When villagers begin to lose their sight, deliveries from the zipline shrink. Many go hungry. Fei and all the people she loves are plunged into crisis, with nothing to look forward to but darkness and starvation.

One girl hears a call to action…

Until one night, Fei is awoken by a searing noise. Sound becomes her weapon." - Goodreads
This was an incredibly hyped up book, and I jumped at the chance to read it. I loved Mead's other work (who doesn't!?) and I had such high hopes for this one. They were fulfilled, in a way, but the book also let me down somewhat. I'll try my best to articulate my feelings about this book, but I'm not promising anything!
The problem I had with this book was that it wasn't detailed enough. I loved the whole idea, with deaf people being the norm in this village, it was so interesting. But honestly? I wanted so much more detail, I wanted more backstory of Fei and her sister. I wanted to know a lot, lot, lot more. I thought the book was incredibly short and it's not enough for a fantasy novel. Especially a standalone (which I recently just found out, this was. What? I wanted more...)
I found myself enjoying the beginning, although this was before I realised it was a tiny, short standalone. I thought there was room for worldbuilding and character development and just all sorts of things. There wasn't. I didn't really care about the characters, I wasn't worried for them. I wasn't scared for them. I didn't feel much for them and that's a big issue.
However, saying all of that, I read through it pretty quick and I did enjoy it. I liked the whole story, I liked the magical element (kind of, I mean, it was a little bit weird) and I liked the mystery behind the secret village and the township etc.
Why oh why was it so short? There was
so
much potential for this book, it's almost frustrating! I originally rated this 3* but decided to knock a star off when I thought of how this book could have been and actually, how unrealistic some of it really was.. So I rated this 2* on Goodreads!
Have you read it? What did you think? Let me know in the comments!