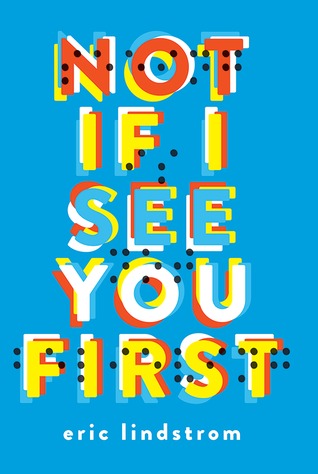 Not If I See You First - Eric Lindstrom
"
Parker Grant doesn't need 20/20 vision to see right through you. That's why she created the Rules: Don't treat her any differently just because she's blind, and
never
take advantage. There will be no second chances. Just ask Scott Kilpatrick, the boy who broke her heart. " - Goodreads
I'm not even gonna start this review with all the mumbo-jumbo I usually use. You should go and read this, you will love it. I can't recommend this book enough. Okay but no seriously, we're gonna get into things now & I'm so excited to let you all know what I thought about this book!
First things first, I started off reading this and I thought, "Wow this MC is a sarcastic little bitch." That's seriously what I thought and I didn't like it. I hated that she was so sarcastic all the time, was it really necessary? Well it turns out, yes it was necessary. As the story progressed, and by that I mean, a few pages after my initial thought, I ended up loving her sarcasm and her wit. She wasn't a bland, feeling sorry for herself character and that was something that I was dreading about reading this. I loved her character in the end.
The thing I loved about Parker the most, was her ability to adapt. I was seriously impressed with everything she did, considering she's blind. She is one amazing character. That brings me to the other point that I wanted to raise. The fact that our main character was blind, gave a whole different perspective to pretty much everything and I loved that.
There's a strong emphasis on friendship in this book and I really think that friendship is something that often gets overlooked for romance. Of course there's romance too, but there's more friendship and it was refreshing to see that.
I found myself agreeing with Parker a lot, she made a whole bunch of mistakes, but I could relate to them (kind of) and I could see why she reacted in the ways that she did. The character development in this book is incredible, it's like watching a sister/best friend grow up and change over time. I loved seeing the change in Parker, and a lot of the other characters too. It felt so realistic, as if I were reading a diary and not a novel!
The only reason I rated this 4* and not 5 was because I wanted to see more of Scott, although I'm glad that we didn't see much of him. It's a bit weird to explain, but I think I'd definitely love a sequel or prequel with Parker & Scott.
Overall, I loved this. If you couldn't already tell. There's not much more to say, other than that I think you should read this, and you will most definitely love it.
Have you read this? What did you think? I'd love to hear your thoughts!