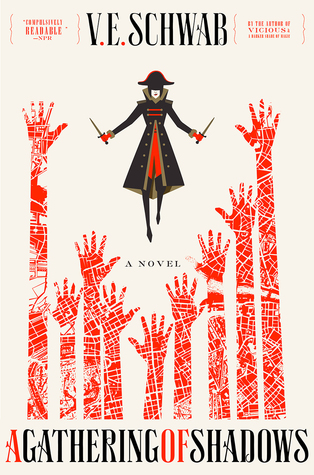 A Gathering of Shadows - V.E. Schwab
This is the second book in the Shades of Magic series, so I won't include a synopsis so I don't spoil the first book for anyone that wants to read it or is in the middle of reading it!
Here's the link to the Goodreads page, if anyone is interested in reading all about this book!
This book was sent to me by Titan Books in exchange for an honest review.
I loved this book. There I said it. I loved it. I preferred it to the first book, even though I really enjoyed the first book too but this was just different. The first book was a little confusing for me, trying to learn about the world etc so it took me a while to get into it and really throw myself into the world. With this book, there was no problem with jumping straight in and enjoying every second from the minute I turned to the first page. It was exciting, it was interesting, it was eventful (to an extent) and honestly, the characters made it 100000x better.
I'm going to start off with the one thing I didn't like about the book, and then we can move on to the juicy bits! It was a little bit of nothing, as in there wasn't much that happened. I get the whole story was based around the
Essen Tasch
(The Element Games) but it kind of seemed as if it was a backstory, which
yes, yes it was
but the real story didn't kick off until the end of the book so the second book was just a 'filler' between the first and the third. Is this even making sense? I liked that there was a bit of a break in the drama and destruction to an extent because we got to learn a lot about the characters and grow to care about them more which is so so important for me. I need to like the characters or at least have some kind of feeling towards them in order to really fall into the story properly.
Other than this book having the classic 'second book syndrome' there really wasn't anything else that I didn't like about it.
I loved that we got to learn more about the Arnesian language, and even some Faroan and Veskan too. It's so well thought out, and just intriguing to read and learn. I'm a massive fan of learning languages.
Throughout the book, we see other lifestyles in Red London and learn more about their culture and traditions. I kind of wished that Kel and Lila would have met up a lot sooner than they did in the book, but now looking back I'm glad it happened the way it did because it was actually fun waiting and hoping they'd meet up again.
This book was full of funny moments and witty banter and that's something that I love in fantasy novels. It has everything that you'd want in a book. I don't know what else to say other than I really loved this book, it's definitely worth the read and I cannot WAIT for the next one in the series!
If you haven't picked up this series yet, you definitely should!
Here's a link to my review of A Darker Shade of Magic
, I highly recommend it!
Have you read this!? Let me know what you thought about it before!