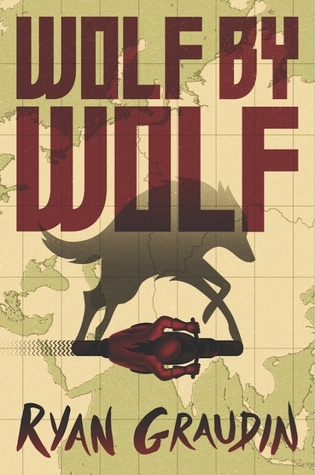 Title:
Wolf by Wolf
Author:
Ryan Graudin
Series:
Wolf by Wolf #1
Publisher:
Little Brown Books for Young Readers
Date Published:
20th October 2015
Pages:
400
Source:
NetGalley
Her story begins on a train.
The year is 1956, and the Axis powers of the Third Reich and Imperial Japan rule. To commemorate their Great Victory, Hitler and Emperor Hirohito host the Axis Tour: an annual motorcycle race across their conjoined continents. The victor is awarded an audience with the highly reclusive Adolf Hitler at the Victor's Ball in Tokyo.
Yael, a former death camp prisoner, has witnessed too much suffering, and the five wolves tattooed on her arm are a constant reminder of the loved ones she lost. The resistance has given Yael one goal: Win the race and kill Hitler. A survivor of painful human experimentation, Yael has the power to skinshift and must complete her mission by impersonating last year's only female racer, Adele Wolfe. This deception becomes more difficult when Felix, Adele twin's brother, and Luka, her former love interest, enter the race and watch Yael's every move.
But as Yael grows closer to the other competitors, can she bring herself to be as ruthless as she needs to be to avoid discovery and complete her mission?" - Goodreads
From the very first page, I was in tears. If that isn't the beginning of a 5* book, then I don't know what is. I think I need to first let you all know that I am a massive history lover, particularly WW2. For some reason, it fascinates me more than anything else, so of course that's made me love this book probably a lot more than I would have if I wasn't completely obsessed with learning about the horrors of Nazi Germany.
I really want to start this review with the plot. The storyline. What happened. The journey we went on with this book was incredible. I was sceptical at first after hearing it was about a motorcycle race, that didn't really interest me. I thought I would hate it, but it was incredible. The plot was so unique and different to anything that I've read before. Some aspects of the story were a little weird.. (what the experiments did) and kind of unrealistic and not believable (even for fictional science) but it was still really interesting, and anyway it allowed for a great plot twist so who's complaining ;)
Yael was such a likeable character, she was strong and determined, but still not without her flaws. I love when characters have flaws, it makes them a lot more real, as if they're a real person and draws me into the story that much easier. All of the characters in this book were written so well that you either liked/disliked them as if they were personally your friend/foe.
The writing in this book was impeccable, gripping and didn't get boring, not even for a small part. I absolutely loved that we got to flick back into the past to see what happened to past characters and how Yael ended up where she was. Sometimes when the timeline jumps between past and present, it can get a little confusing and difficult to follow, but this was done in a way that was so easy and even made me want to just stay in the past and learn more about what happened to her and her family, rather than continue with the main story.