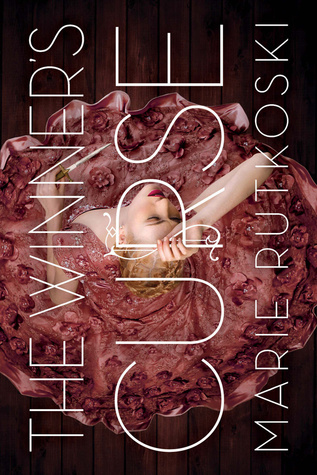 Title:
The Winner's Curse
Author:
Marie Rutkoski
Series:
The Winner's Trilogy #1
Publisher:
Farrar Straus Giroux
Date Published:
4th March 2014
Pages:
388
Source:
Bought
Buy It Here: The Winner's Curse
Winning what you want may cost you everything you love...
As a general's daughter in a vast empire that revels in war and enslaves those it conquers, seventeen-year-old Kestrel has two choices: she can join the military or get married. But Kestrel has other intentions.
One day, she is startled to find a kindred spirit in a young slave up for auction. Arin's eyes seem to defy everything and everyone. Following her instinct, Kestrel buys him—with unexpected consequences. It's not long before she has to hide her growing love for Arin.
But he, too, has a secret, and Kestrel quickly learns that the price she paid for a fellow human is much higher than she ever could have imagined.
Set in a richly imagined new world, The Winner's Curse by Marie Rutkoski is a story of deadly games where everything is at stake, and the gamble is whether you will keep your head or lose your heart. - Goodreads
If you like a smart heroine, a sexy love interest, and a fucked up world then this is the book for you. I have to say, I knew I would enjoy this book as soon as I heard it focussed on the politics rather than a romance or 'fantastical' plot. I absolutely loved every word of this book and immediately started the second in the series (The Winner's Crime) because I literally could
not
wait to find out what was going to happen.
Kestrel was a great main character, of course.. she had her flaws but they were.. great flaws! She was so easy to relate to. It's refreshing to read a heroine who sucks at fighting but is great at using her mind.
I was definitely expecting this book to be a lot more cunning and clever. Kestrel is supposed to be a fantastic strategist, but we didn't really get to see that much of it. I expected it to be filled with loads of twists and turns, things we wouldn't expect and a whole bunch of smart people at war. Nevertheless, I loved the direction this book took and still thoroughly enjoyed it.
Arin is my absolute 'bae'. From the beginning there was just something about him that I really liked. I had no idea what it was, or why I took such a liking to him but I really did. I think most people did. I certainly know Kestrel did!
The relationship with her dad was bumpy, to say the least. I would have loved to have learned more about her life before she buys Arin, I think the whole world was fascinating to read about, I'm sure her life before was just as interesting as this book (and the rest of the series).
I've read the entire trilogy, I won't be reviewing the other two books (as I don't want to spoil anything for anyone who hasn't started the trilogy) but just know that I absolutely loved them all, it's one of the greatest trilogies (if not the BEST trilogy) that I've read all year!