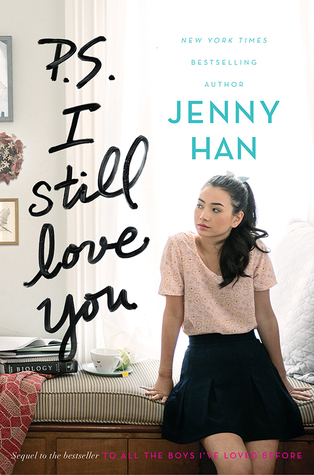 P.S. I Still Love You - Jenny Han
"
Lara Jean didn't expect to really fall for Peter.
She and Peter were just pretending. Except suddenly they weren't. Now Lara Jean is more confused than ever.
When another boy from her past returns to her life, Lara Jean's feelings for him return too. Can a girl be in love with two boys at once?

In this charming and heartfelt sequel to the New York Times bestseller To All the Boys I've Loved Before, we see first love through the eyes of the unforgettable Lara Jean. Love is never easy, but maybe that's part of what makes it so amazing.
" -
Goodreads
PETER KAVINSKY YOU GOD.
I just love him. He made this book. He made it everything it is. This book was almost definitely better than the first, 'To All The Boys I've Loved Before'.
I just realised this is a sequel so I can't do a full proper review - but if you don't want to be spoiled for the first book, then
l e a v e n o w.
Don't say I didn't warn you.
If you haven't read 'To All The Boys I've Loved Before' then go and read it now because it's also amazing!
Click the 'Read More' link for the full review (possible spoilers for book 1, but no spoilers for book 2!)
I
love
Peter and Lara Jeans relationship. I loved it, Peter is just so cute and Lara Jean has honestly grown so much from the first book. The character development there was really good, I just adored everything they were and did together.
The
FEELS
in this book were almost too much to handle. I found my heart racing, lumps in my throat, tears in my eyes at almost all of the second half of the book. I just couldn't take so much pain and heartbreak for the characters. Gosh it was so tense, I couldn't put the book down till I finished it.
As always, I love Kitty. She's the cutest little 10 year old I've ever read about. Sometimes I even forgot how old she was, she was so mature at times and at other times you were reminded she was just a little kid. I loved her birthday scene, and her little schemes to get people to fall in love. It's just so so cute.
I'm glad we saw more of Margot in this book, I didn't really like her in the first one, but she's really started to grow on me and I just wished she were around even more. She spoke so much sense! But Scotland calls...
John Ambrose McClaren = what's the point? He got in the way, I didn't want her to like him or be with him, I didn't want another love interest. I just wanted her and Peter to be together forever.
Is that too much to ask?
Overall, I really enjoyed this book and whilst the start was a bit iffy and I wasn't sure if I was going to like it as much as the first one, the second half of the book 100% made up for that. I've never felt so much for characters in a book before, this was just intense. I rated this book 4* on Goodreads. I highly highly highly recommend this book if you loved the first one.