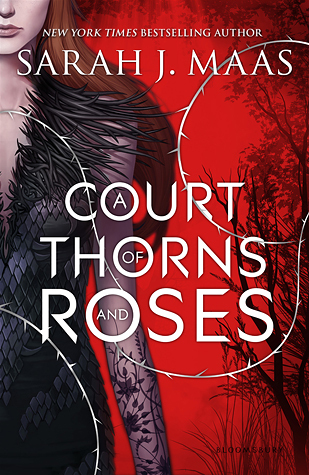 A Court of Thorns and Roses - Sarah J Maas
"
When nineteen-year-old huntress Feyre kills a wolf in the woods, a beast-like creature arrives to demand retribution for it. Dragged to a treacherous magical land she only knows about from legends, Feyre discovers that her captor is not an animal, but Tamlin—one of the lethal, immortal faeries who once ruled their world.

As she dwells on his estate, her feelings for Tamlin transform from icy hostility into a fiery passion that burns through every lie and warning she's been told about the beautiful, dangerous world of the Fae. But an ancient, wicked shadow grows over the faerie lands, and Feyre must find a way to stop it... or doom Tamlin—and his world—forever." - Goodreads
I wasn't a fan of Maas's Throne of Glass series. But I thought I can't let that sway me, so I read the synopsis of this. Fae? Fairytale retellings? I wasn't sure about this. I put off reading it for a long long time, but finally decided to just give it a go... and I'm so happy that I did because I loved it! To be honest, I think the blurb/synopsis kind of put me off a lottle. I'm just not a fan of faeries and magical kingdoms etc. I tend to get confused a lot early on with books like this and end up giving up (HA that's my own fault I guess) but everyone was going on and on about how this is an amazing Beauty and the Beast retelling and I just couldn't NOT read it. I had to. Beauty and the Beast is one of my favourites.
I was immediately drawn in. For some reason I really quite enjoy when the main characters in books are super poor and have to hunt and fight for their survival. It's so interesting and makes me thankful for what I've got in my life.
From the get-go, all I wanted to do was read this book and I haven't felt like that for a while!
Throughout the story, we got to learn a lot about the world, both Feyre's and Tamlin's - usually, I'm not a fan. I can't deal with all the description about towns and things but Maas's writing in this one is phenomenal. I wanted to learn about their worlds, I wanted to learn about their families and their pasts. For some reason, I wanted to know about everything.
But that's where I feel the writing fell a little flat. There wasn't enough description, the world wasn't developed enough, which I understand is hard to do when you're writing in 1st person, but I wanted that Game of Thrones kind of development from this. I think I enjoyed it so much, I wanted more. Which is good. But also bad. We can overlook that. Moving on...
Tamlin. Bloody hell, that man/fae. I think I fell in love with a book character. That's not normal is it? I could just so so clearly imagine him in my mind. He's the Christian Grey of the fae.
Honestly, I wanted so much more of him. I wanted their relationship to struggle a little more. I wanted him to be more closed off and blunt. I wanted more of his dark side. But I have weird fetishes, so I guess this complaint doesn't count either!
I loved the way Feyre and Tamlin's relationship developed pretty slowly. I thought for a minute she'd get with Lucien and then was like 'No no, he's not the beast, we need a beast!' so quickly wiped that thought out of my mind!
And I can't end this review without mentioning Rhysand. I don't want to spoil anything, but I don't know whether I love him or hate him. I'm confused. Mixed feelings. I just don't know about that. "My mind's telling me no, but my body is telling me yes." < If you know, you know!
I could probably go on and on about this book forever (I won't) and I could never run out of praise for it. But I really did enjoy it. One drawback (a real drawback) is that the middle was a little dull, nothing seemed to happen for a good part of the story and that's why I had to knock a star off when rating it! One more thing, I'm having book hangover, withdrawal symptoms, reading slump etc etc, and a book hasn't made me feel like that for a while so I'm in love. The more I think about it, the more I want to add another star on my rating. Hmm.
I rated this 4* on Goodreads and cannot wait for the sequel to be released!
What did you think? Did you love it? Did you hate it? Let me know below!